Garden Image at Blue Barn


3835 Morris Rd
Sherman NY 14781
716-761-7157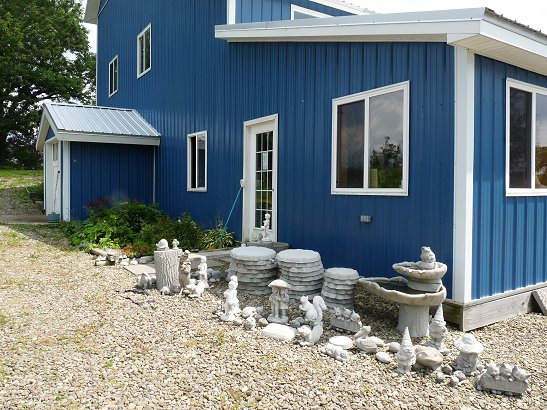 WELCOME TO ALL!
BROWSING IS HIGHLY ENCOURAGED!
No purchase is required - just stop by
to have a look and enjoy yourself!

Our gift shop is over 600 square feet packed full of wonderful garden decor. We sell a variety of trellises in several styles and shapes. Need a shepherd's hook? - we have mini to large! Love planters? - our planters are fun, whimsical, and unique. Enjoy Solar? - we now have decorative solar statues with your choice of birds, lighthouses, or angels. We also have a large variety of plant pokes - colorful flowers, suns, birdhouses, butterflies, gnomes, and more. We sell plant stands, garden borders, windchimes, plant hangers, and MORE! Not to mention all the concrete yard ornaments you can browse outside! There are birdbaths, benches, stepping stones, statues, fountain items, military blocks, angels, and more!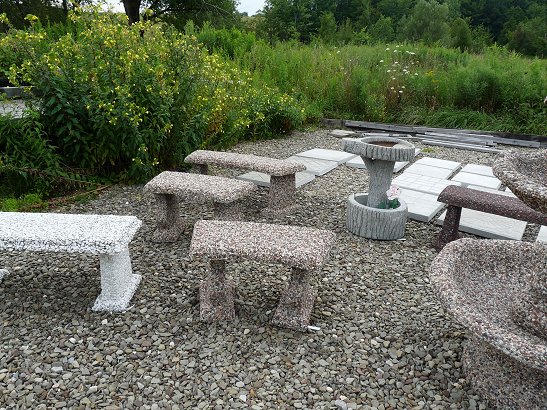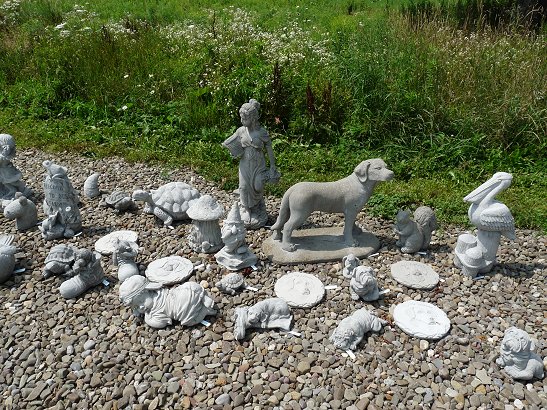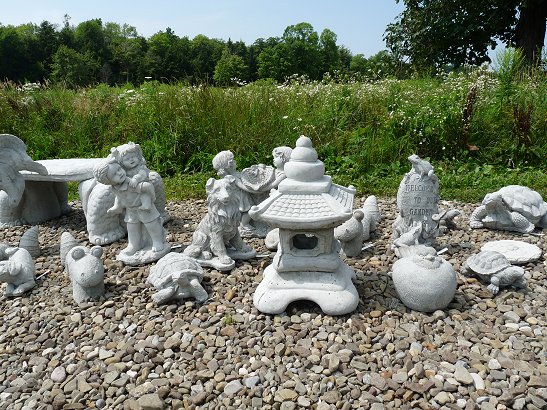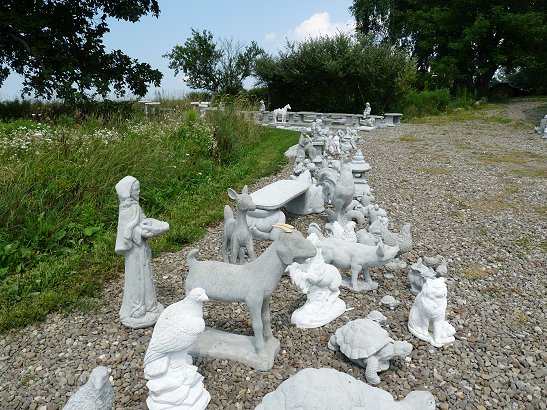 Open Saturdays 10 - 5 pm, Sundays 1 - 5 pm
Starting May 14th thru Labor Day,
Open only on Sunday afternoons in Sept.
OR ANYTIME BY APPT. (just call!)
716-761-7157

ONLY CASH OR CHECK ACCEPTED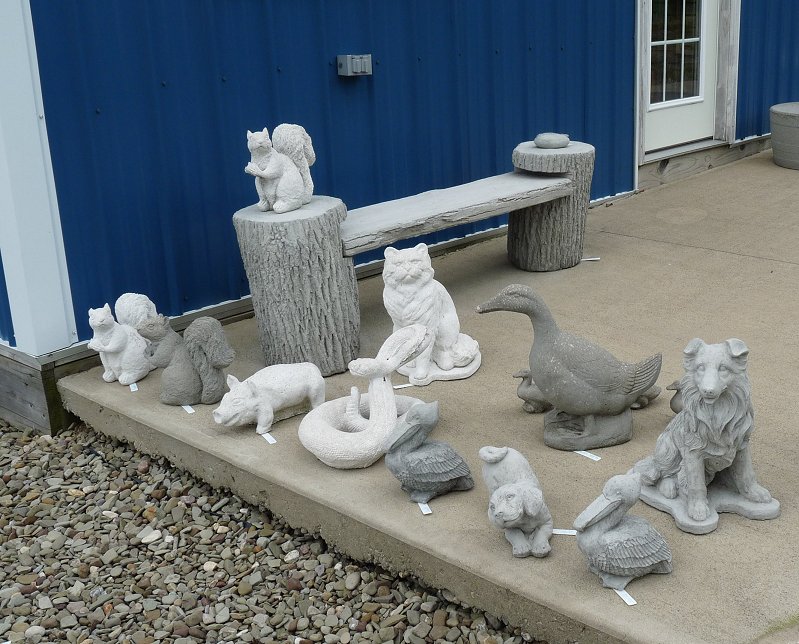 Only 5 minutes away from Exit 7 off I-86
If coming from the west, (Erie, Pa), turn left after exiting. If coming from the east, (Jamestown, NY), turn right after exiting.
You should be headed toward Chautauqua, NY.
Drive one mile to 4-way Stop (blinking red light) and turn left. Drive approx. 2 1/2 miles to take a right onto Morris Road (County Road 25). Drive only 1/3 mile - the Big Blue Barn is on your left hand side behind a white farmhouse.
The address is 3835 Morris Road, Sherman, NY but we are located almost 4 miles from the village of Sherman - halfway between Sherman and Stedman. And only 6 miles from Chautauqua and Mayville! Morris Road connects to Route 394 in Mayville.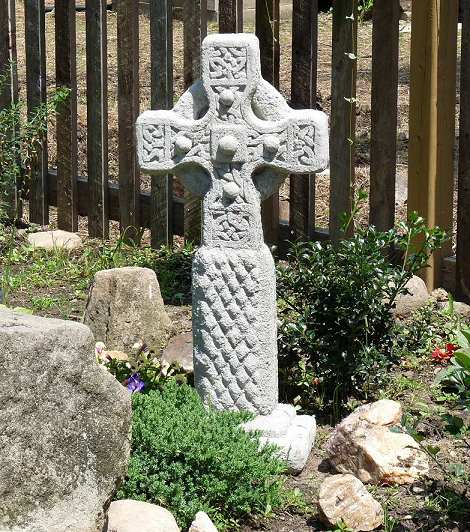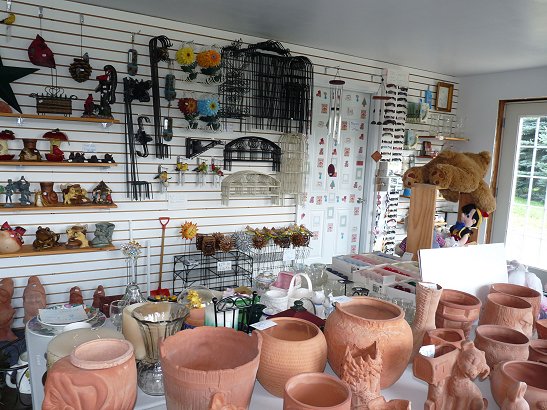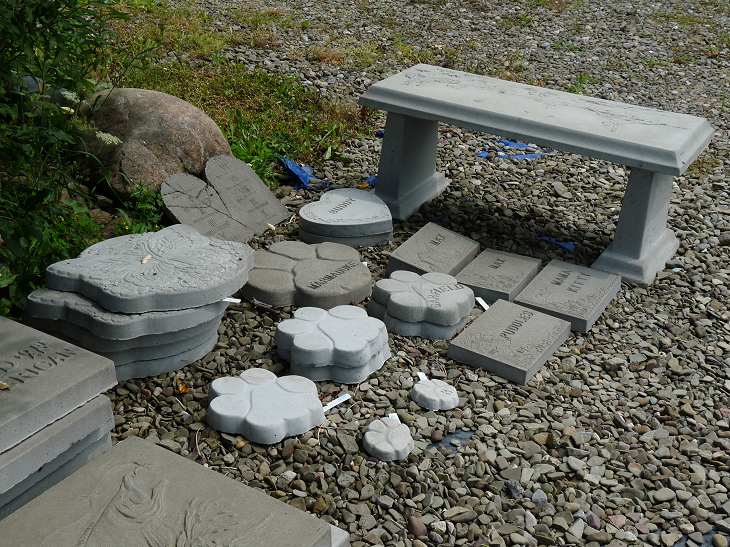 Our business began in 2005 when we found a wonderful supplier of concrete lawn ornaments. Soon we added the variety of metal and cast items for the yard and our gift shop was born! We enjoy searching for fun and functional garden decor.
Our selection includes planters, plant stands, hooks, hangers, and more. Our shop offers a good selection of shepherds hooks, trellises, garden accents, etc. We also have a line of unique terracotta planters.
All concrete items (benches, birdbaths, statues, stepping stones, planters, etc.) stay outside year round. The only preparation done for winter is turning over anything that will hold water so it can drain. This prevents water from collecting, freezing, and expanding which could crack the concrete. Our concrete items have proven their durability during our harsh winters where we are located between Erie, PA and Buffalo, NY.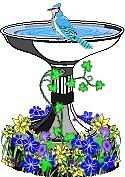 copyright 2010 , Jim & Beth Boyle, All Rights Reserved

No part of this website may be used for any purpose ( including using images )
without written consent from The Rams Horn