Rats in Art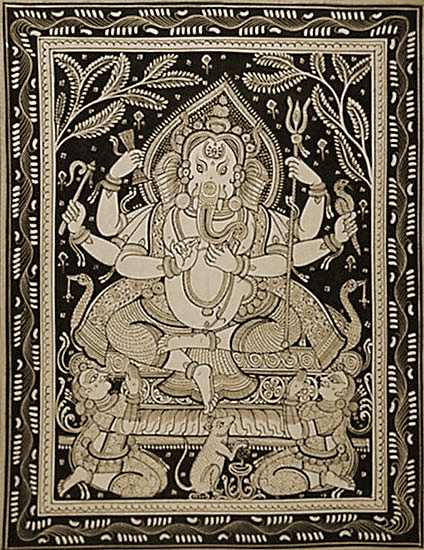 Welcome to Duncan's Gallery

of Rat Art



Lord Ganesh and his rat

Ganesha is the God of success and overcoming obstacles, but is also associated with wisdom, learning, prudence, and power. As the god of success, his names are chanted at the start of any important venture.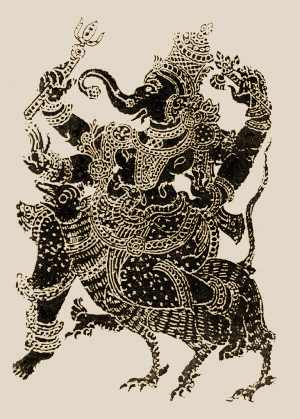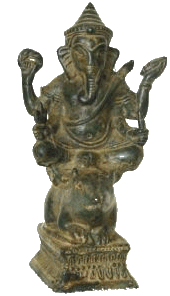 In Hindu mythology, the elephant-headed god Ganesh is accompanied by a rat wherever he travels. An offering to Ganesh and his small companion and vahana the rat is therefore an important part of Hindu worship. Ganesh is the jolly elephant headed god whose origins are in the Hindu tradition, though he has been adopted into the pantheon of some Buddhist schools as well. Ganesh is the remover of obstacles and can bestow good fortune. In India, traditionally no important undertaking is begun without first invoking Ganesh to insure success. Ganesh as the god of Music and great catagorizer of all that can be counted or comprehended. If the gods created us in their image, then creation must be a holy act itself. It is believed in Hindu tradition that it is good to hold this remover of obstacles in mind when beginning to create that loveliest art form, music. Much good is thought to flow from this benevolent deity once he knows what his subject has in mind.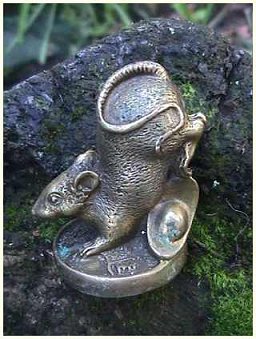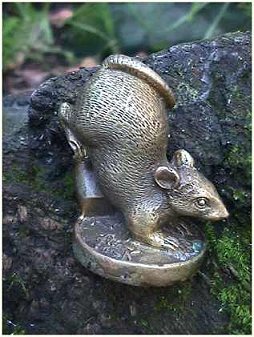 Duncan's Zodiac Rat Purchased on his trip to Brushwood Folklore Center.


Lots of good rats here!

The Ganesha Mantra

Om parvati pataye

Hara hara hara mahadev

Gajananam buta

Ganadi sevatam

Kapitha jambu

Phalacharu bhakshanam

Umasutam shoka

Vinasha karakam

Namami vigneshvara

Pada pankajam


Translation:

O elephant-faced God, Ganesha,

you are served by the attendants of Shiva

and you eat forest apples and blackberries.

You are Uma's son, the destroyer of sorrows.

I bow to the lotus feet of the remover of obstacles.



The Vinâyaka Ganesh form is worshipped in Japan as Kangi-ten or Daishô Kangi-ten (god of joy and harmony), or again Shôten-sama or Tenson-sama. He his supposed to have been introduced in Japan from China, circa 9th century by Koloho Daishi.

'

The following are authentic Japanese rat-related haiku by the 18th C Japanese poet and painter Taniguchi (Yosa). A koto is "A Japanese instrument similar to a zither, having 7 to 13 silk strings stretched over an oblong box."]

Walking on dishes

the rat's feet make the music

of shivering cold

Light winter rain

like scampering rat's feet

over my koto.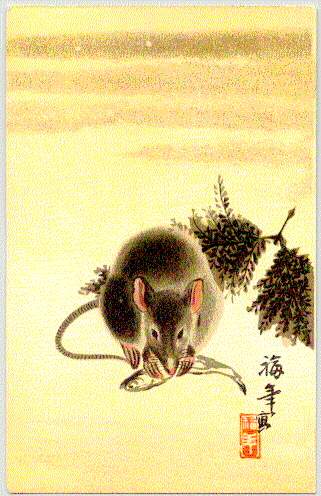 Duncan, the Curator of the Rat Museum.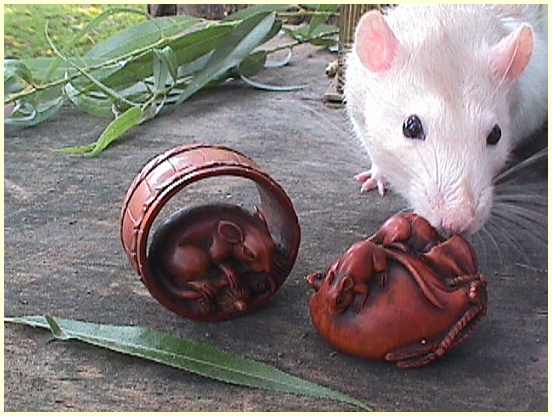 Carved Netsuke of Boxwood from Japan These were worn on the belt of traditional Japanese dress.

Netsuke (ne - root and tsuke - to fasten) or toggles have captured the imagination of collectors for centuries. Traditional Japanese garments and kimonos lacked pockets. Women carried items in their sleeves or tucked into a fold within the wide obi (sash or belt). Men tied a small sack to a cord and pulled the cord up under the obi where it would be kept from slipping by a Netsuke made of stone, gourd or root.

A practical invention that endured over 300 years, Netsuke evolved into a unique form of miniature sculpture that could be held in the palm of the hand. Subjects varied widely, including deities, legendary heroes and animals.



To show the passage of time, Renaissance artists sometimes depicted night as a black rat and day as a white one.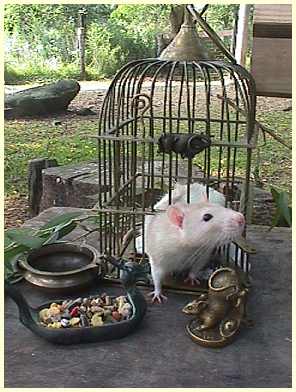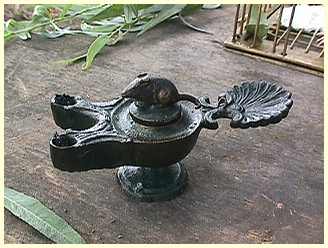 In old Japan, rats had it good because a white rat was a messenger of one of the seven gods of luck, Daikoku. Because of this connection, they were not killed. The story goes that a rat couple wanted the strongest husband in the world for their daughter. They asked the sun who declined saying that clouds had more power because they could cover him up. When they asked a cloud, he responded, "The wind is stronger than I because it can blow me away." The wind could not make the grade either. "The wall stops me cold," he said. And the wall, though honored by the offer wailed, "The rat is stronger. He can bore a hole right through me." So the couple wisely gave their daughter in marriage to another rat who was indeed the strongest creature of them all.
-Senryu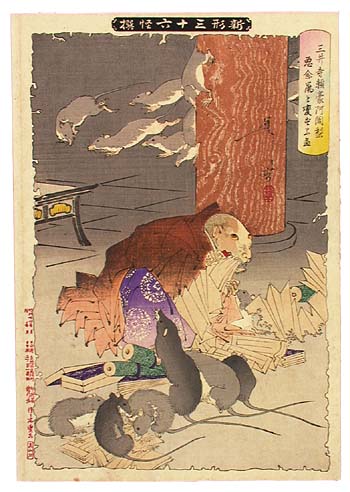 Priest Raigo of Mii Temple transformed

by wicked thoughts into a rat .Japanese print, 1891

In Japan a white rat accompanies the god of happiness and is also an attribute of the god of wealth





Red Hong Tze, Table Sculpture of Mother Rat and Babies with gold and Coins.

(Chinese Zodiac) This is made from alabastritepolyresin in the intense deep-redcolor which is so typical of the much sought after originals foundonly in the Sou mountains of China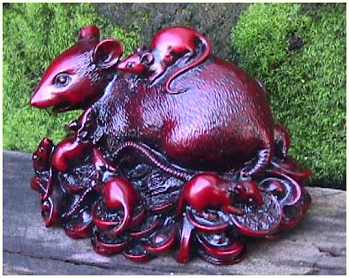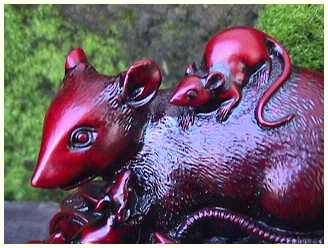 In China, a miser is called a 'money rat'.



Boxwood Netsuke with glass eyes of two playful rats, hand carved in China.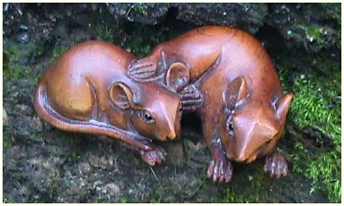 The formal dress in Japan dating back to the early 1600s was the "kimono" which is similar to a long robe, and was worn by both men and women. As the kimono had no pockets, uperclass men carried their tobacco pouches and accessories by suspending them on a silk chord from their "obi" or kimono sash. Objects suspended from the sash are called "sagemono". To keep the objects from slipping out of the sash, a toggle was attached at the end of the silk chord. This toggle is called a "netsuke." Also, in between the netsuke and the sagemono, a sliding bead called "ojime" was strung onto the silk chord. It would regulate the tigtheness of the opening of the sagemono pouch or pocket. The japanese began crafting all three items into an ensemble of wood, ivory, precious metals, or jewels. They were all very intriquitely decorated and the attention to detail is very high.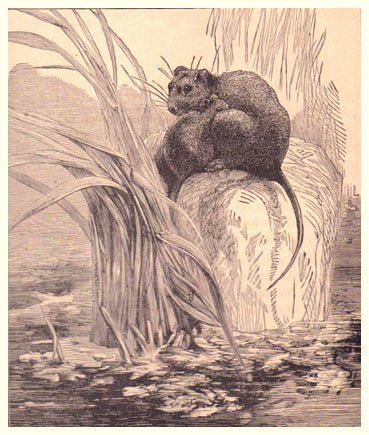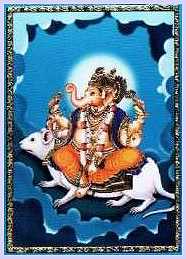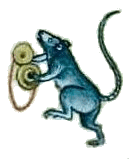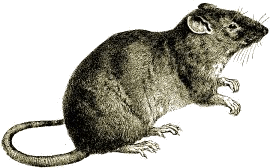 copyright 2002 , Jim & Beth Boyle, All Rights Reserved No part of this website may be used for any purpose ( including using images ) without written consent from The Rams Horn

.............................................................................................................................................................................................................................................................................................................................................................................................................................................