Kerosene Lanterns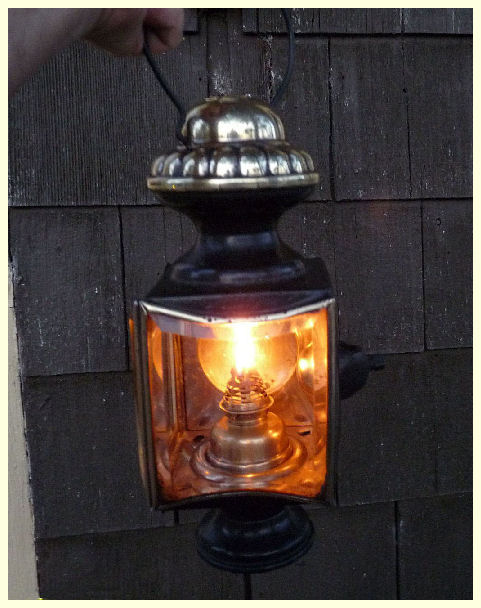 Small Edward Miller Carriage Lamp or lantern



There might have been a pair of these used on a vehicle pulled by horses or ponies.

This is the only one we have found but it works very well as a lantern that is hand held as it has a nice bail to carry it.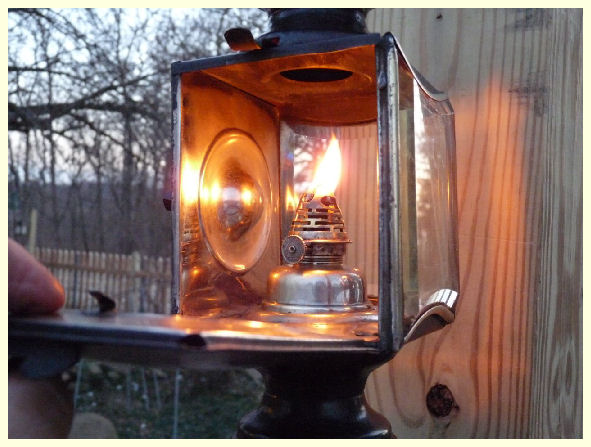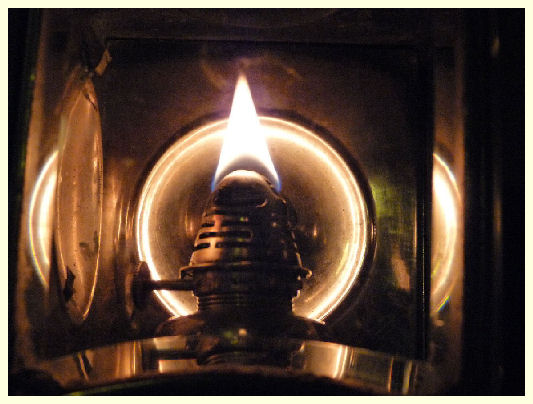 Close up of the burner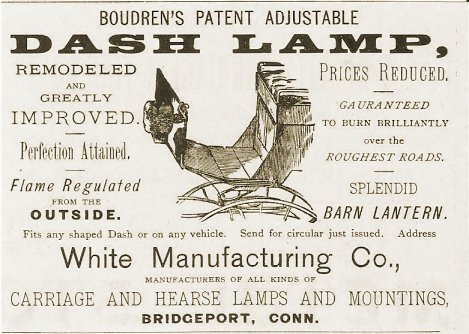 Perhaps this lamp did not come in a pair and it attached like this one.

I am not sure if Miller made my whole lantern or if they just made the burner.

I do not think my lamp is this brand as it does not adjust from the outside.

Feel free to write me if you have any information on this type of dash or carriage lamp.

One thing is for certain it was meant to be used as more than just a buggy lamp

as it has a large sturdy handle I have not seen on the average carriage lamps. -Beth Maxwell Boyle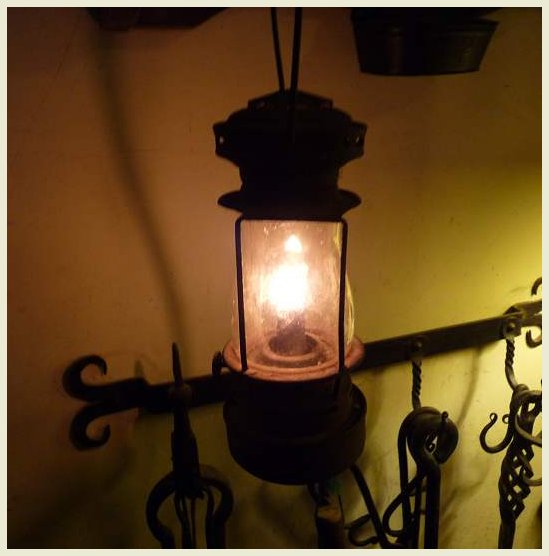 Small Lantern

The Scout and Sport

by Dietz



This size lantern is often call a skating or skater's lantern. They are very light weight but very sturdy and were favorites with children. The globe on the Scout and Sport lanterns can be removed by squeezing the vertical globe guard wires which allows the top to be tilted back so that the globe can be removed for cleaning or replacement. The lantern pictured is rusty but it would have had a shiny tin coating over the steel surface when it was manufactured. Tooling for the Dietz Eureka Driving Lantern was reused to produce the Dietz Scout lantern. It was first introduced in 1920 although the model was patented earlier. 1904 and 1914 is the patent date stamped on many of these small lanterns. The Scout was replaced by the "Sport" in 1923. Dietz manufactured it as late as 1944. The Sport was almost exactly the same as the Scout however Dietz made changes in the manufacturing process to cut the amount of soldering on each lantern. This redused the cost of production. The forefather of the Scout and Sport lanterns was the Dietz "Boy," which they had introduced in 1879. The "Boy" was a similar lantern that used the same size globe but it had retainer grooves to keep the crown in place. The "Boy" was discontinued in 1908. This left a void in the Dietz line for a lantern of this type. Scout lanterns were only advertised as having an unpainted bright tin finish, while the Sport model was listed as being available in solid brass as well as tin plated steel. Brass models of either model are very rare. Solid color globes for the Scout and Sport lanterns were only made in small numbers and today are hard to find.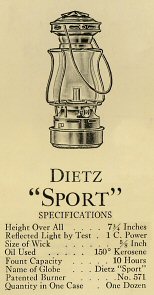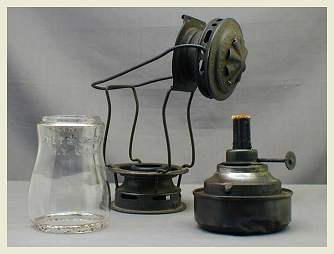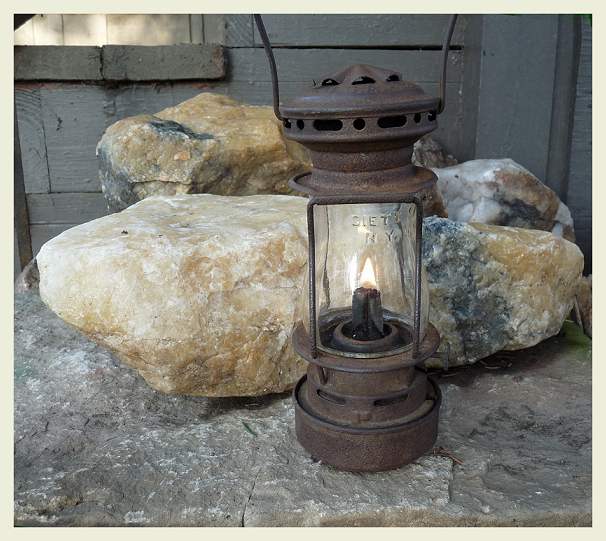 My rusty little Dietz Sport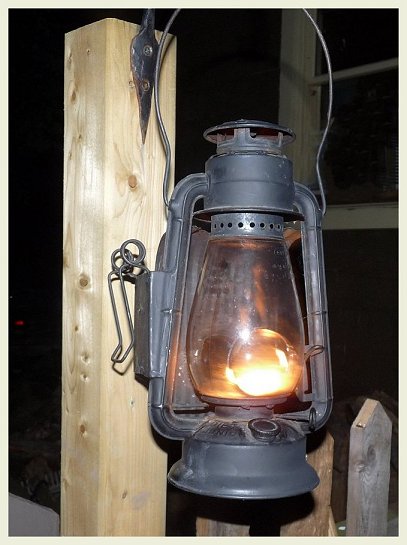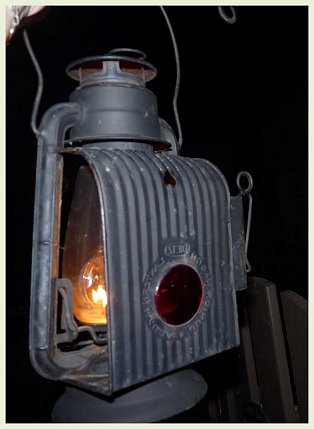 Dietz Junior Dash Lamp for Buggy or wagon

These were produced from 1900 to 1914. From 1910 forward they were made with a 2 1/4" bull's eye lens to magnify the light from the burner.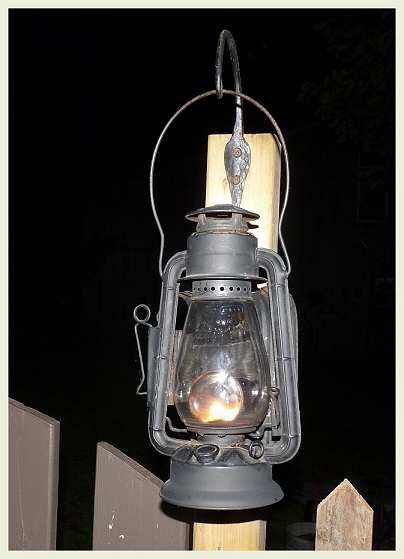 Lanterns That Lit Our World: How to Identify,

Date and Restore Old Railroad, Marine, Fire, Carriage, Farm and Other Lanterns

by

Anthony Hobson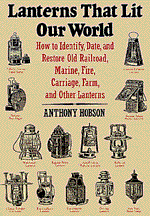 Copyright 2008 , Jim & Beth Boyle, All Rights ReservedNo part of this website may be used for any purpose ( including using images ) without written consent from The Rams Horn.