My Lamps

A few of my kerosene lamps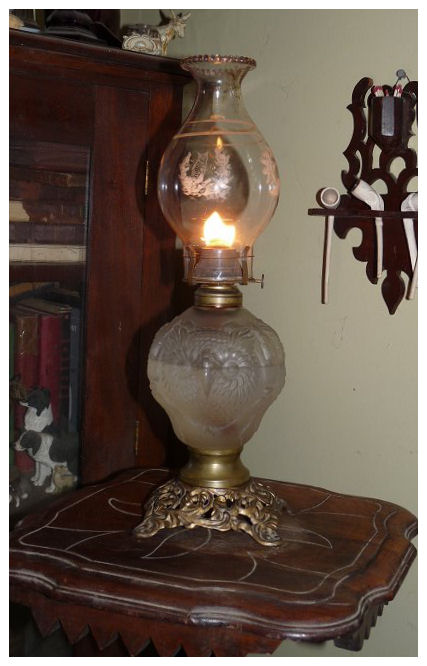 Satin glass1890s Owl Lamp

The base is iron and the band connecting the body to the base is brass.

This Lamp is in Catherine M.V. Thuro's lamp book , Oil Lamps, The Kerosene Era in North America, page 256.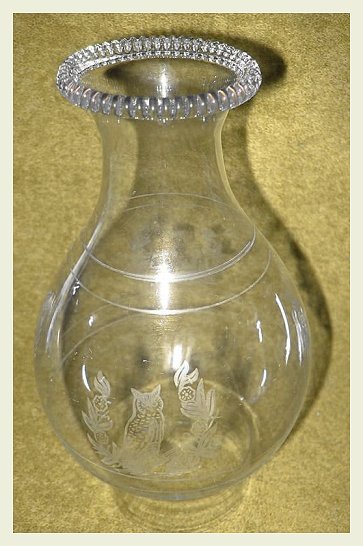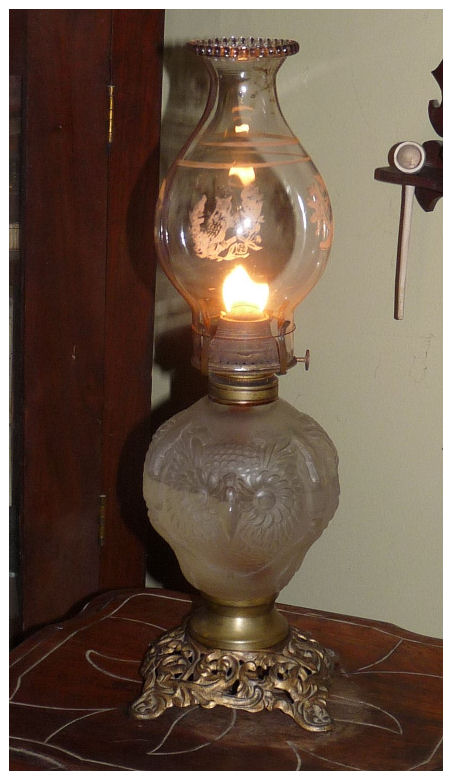 I added an antique, etched-owl & moon, big bulge chimney with crimped top. Thuro said in her book she did not know if this lamp came with a matching globe or if a big bulge chimney was standard with this lamp but I think this chimney is a great match. I bought the lamp with no chimney. I found this chimney on eBay some time ago.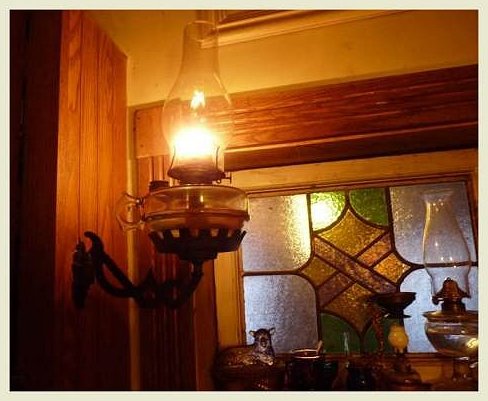 Some Lamps in my Bathroom

Here is a Iron Bracket with nice heavy glass, finger-lamp font and on the far right a small oil-guard lamp. It is not marked so I don't know if it is in fact a Lomax.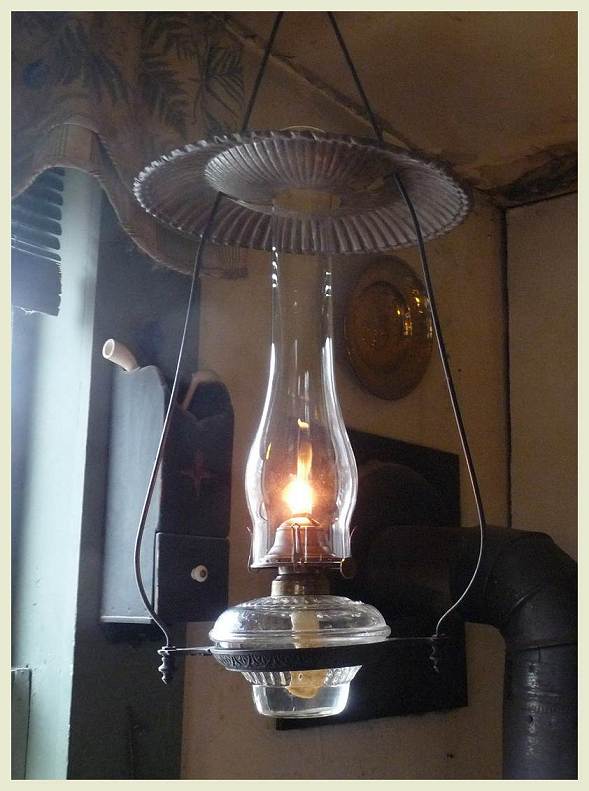 1870s hanging lamp with tin shade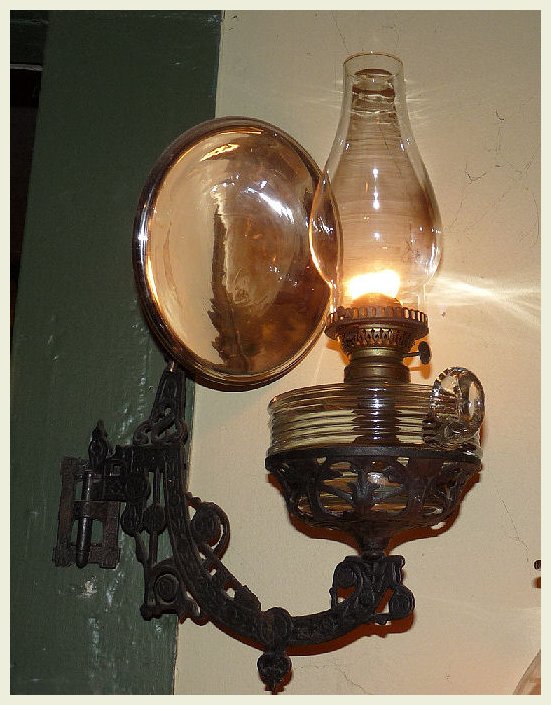 Bradley and Hubbard Wall Lamp Bracket

This bracket been in the family since it was manufactured. It survived two Johnstown, PA Floods before we inherited it. We stripped off all the layers of lead paint and installed it in our parlor. My husband's great grandmother had this in her home in Johnstown. The font and Mercury glass reflector we purchased to complete the restoration. Although these brackets are not rare this bracket is special because its one of the few pieces in our collection that was handed down from relatives. It is also a very functional piece and it has been used in many thunder storms when we have lost power. We also love to light the lamp at holidays and wrap it with greens at Christmas.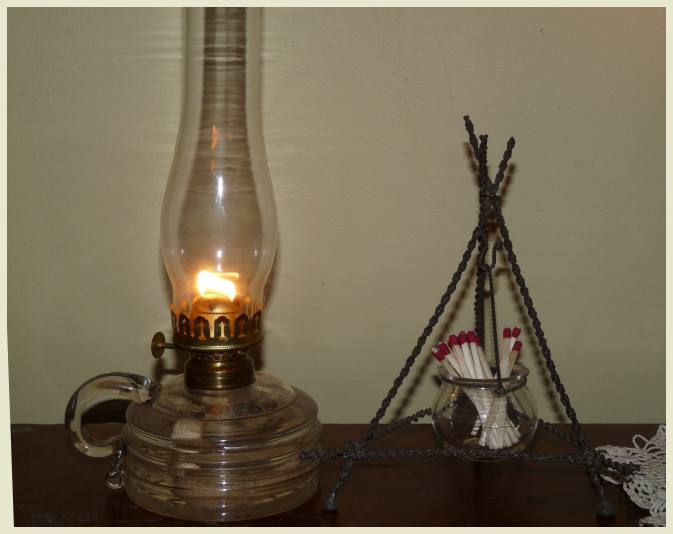 Sparking Lamp and fancy Match Holder

Note the sweet little applied handle that would have been applied hot after the body of lamp was made.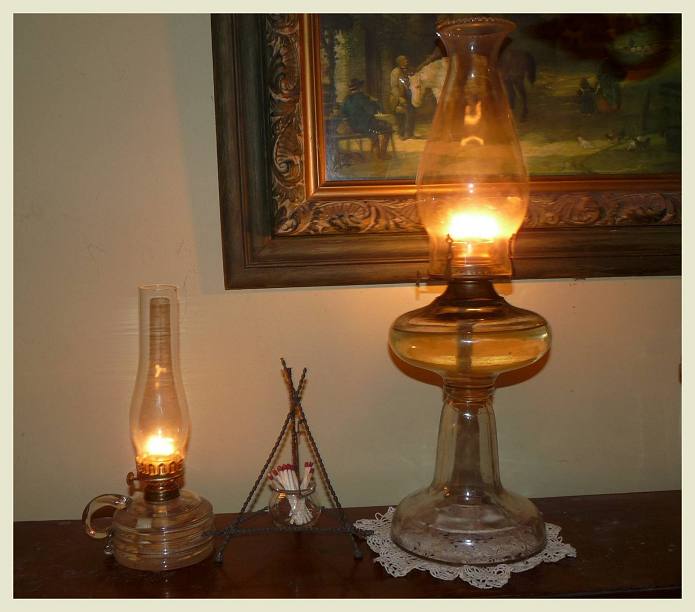 Finger or Sparking Lamp and Riverside Lamp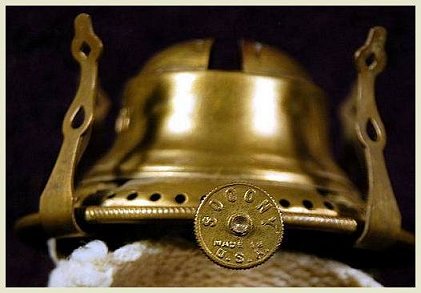 Socony Burner on my Riverside lamp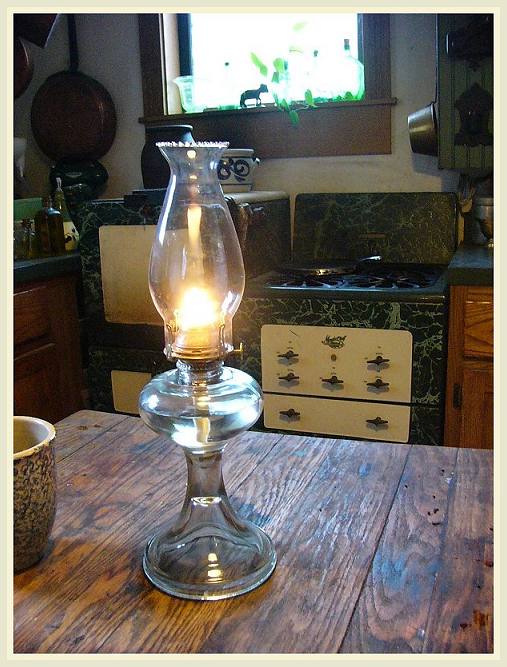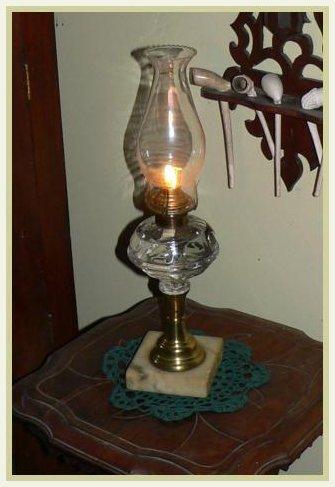 Early and Late

A very basic, early 20th Century Lamp and 1860s Ring Punty, pattern Lamp made of leaded glass, brass and marble. The chimney and burner are latter and not original to this lamp.




1870s Style Bracket and font

The font is pear shaped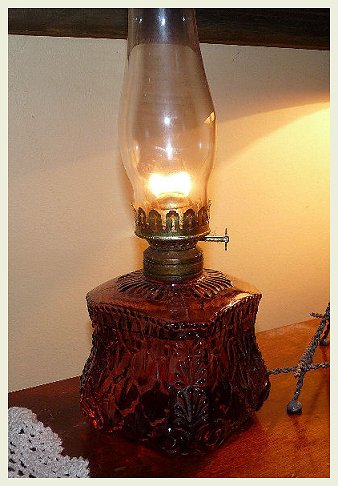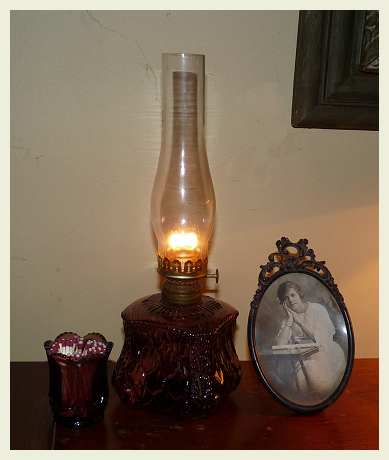 Miniature lamp of purple glass

I understand this lamp would have come with a purple globe to match the font. I bought this lamp with no burner and added the chimney and burner.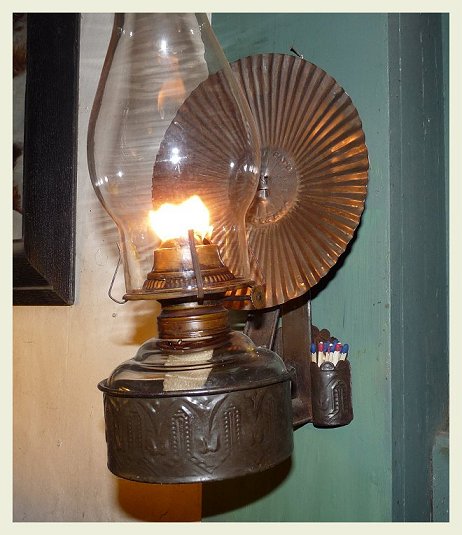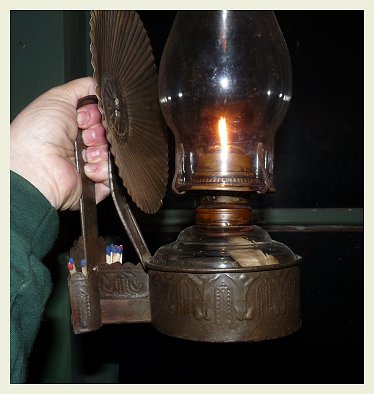 Even with much of the tin plate worn away the reflector still does its job.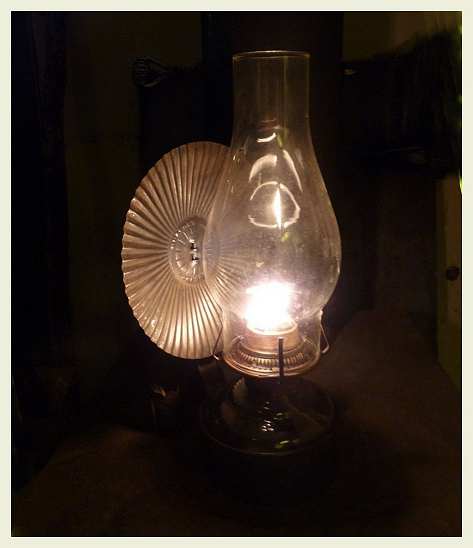 A favorite tin wall lamp

These were often used in kitchens and pantries and in cottages etc. I love the little holding places for matches on the frame. Some people think this was designed so there was a match keeper on each side so one side could hold unlit matches and the other extinguished matches. I just love the fancy design embossed on this and the scalloping. My guess is this is 1880s. Simpler versions were common all the way up through the 1930s. I don't know why but this very inexpensive, old piece is just so homey and sweet. I think its just wonderful. It would make a good steampunk piece too! This can remain stationary on the wall like a sconce or can be carrier around like a kerosene flash light from room to room.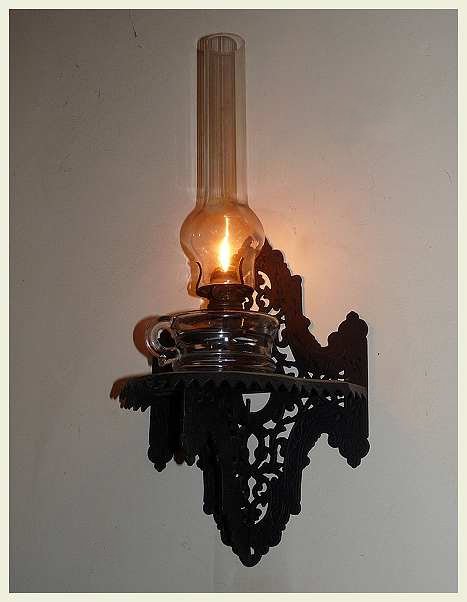 Eastlake Style Iron lamp Shelf

I bought this simple finger lamp just for this shelf. I wanted the shelf to be the focal point.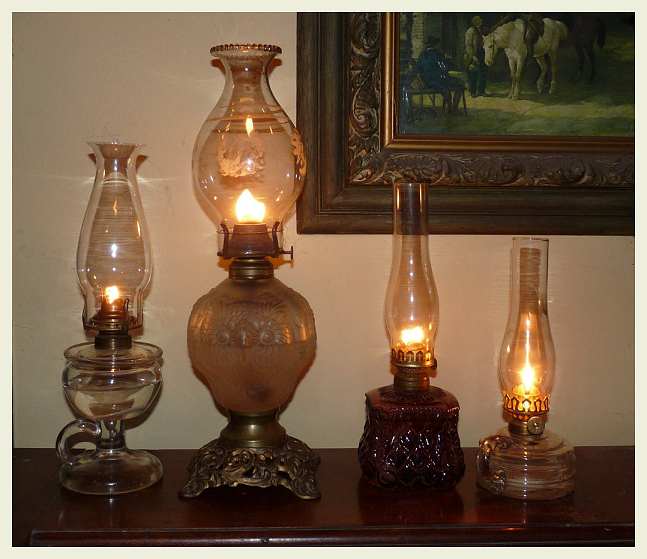 *I have selected lamps that I find pleasing and that I think go with an old farm house such as my own. These were not selected because they are rare or in anyway lamps that are highly sought after or costly. They reflect only my personal taste and nothing more. I do not appraise lamps for anyone, sorry.

-Beth Maxwell Boyle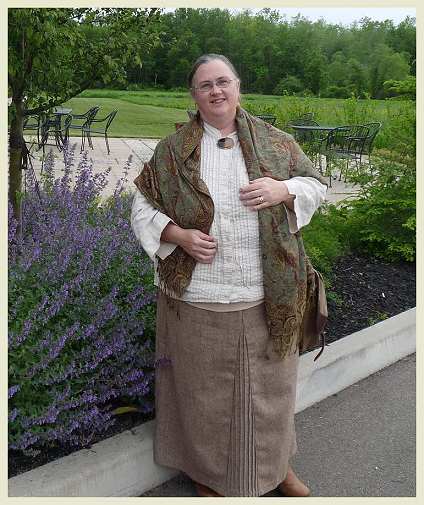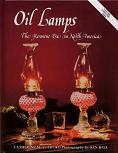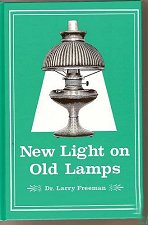 A good book to own

by Larry Freeman


Center Draft Lamps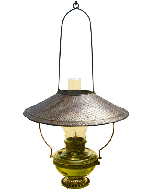 Copyright 2008 , Jim & Beth Boyle, All Rights Reserved, No part of this website may be used for any purpose ( including using images ) without written consent from The Rams Horn.