Useful Books for Cooking and Collecting Iron
Some of these books are out of print but many are not hard to find used on line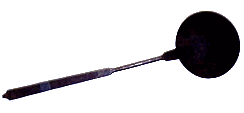 300 Years of Kitchen Collectibles, 5th Edit., 2003 Values, Linda Campbell Franklin, PB-672 PGs., 9x11", 7000 Items!, 1600 Photos, Color Section, Etc. ISBN: 0896891127
A Skillet Full of Traditional Southern Lodge Cast Iron Recipes and Memories, 186 pages, Editor-Jeanne Scholze; Editor-Carolyn Millhiser; Editor-Barbara Clepper,Lodge Press, ISBN : 096779854X
Camper's Guide to Outdoor Cooking, by John G. Ragsdale. 1989. Gulf Publishing Company. Paperback. 170 pages. ISBN: 0884156036

Cast Iron Cooking: 50 Gourmet-quality Dishes from Entrees to Desserts: Dwayne Ridgaway, Paperback, 2006, ISBN: 1592532373

Cast Iron Cooking, by A.D. Livingston. 1991. The Lyons Press. Paperback. 143 pages. ISBN:1558211152

Cast Iron Cookbook, Hester Harris, Illustrated by Craig Torlucci , 1969, Nitty Gritty Productions, California, paperback , ISBN: 091195404X
Cast Iron Cooking For Dummies,Tracy Barr, Paperback, 360 pages, October 2004, Wiley Publishing, ISBN: 0-7645-3714-8
Cooking Under Cover, by Linda & Fred Griffith. 1996. Rand, McNally. Hardback. 351 pages, ISBN: 091195404X

Cooking the Dutch Oven Way, by Woody Woodruff. 1989. ICS Books, Inc. Paperback. 166 pages. ISBN: 0934802513

Cooking Over Coals, by Mel Marshall. 1971. Winchester Press. Hardback. 314 pages. ISBN 0876910039

Dutch Oven Cooking, by Ray Overton. 1998. Longstreet. Hardback. 122 pages. Geared for indoor dutch ovens. ISBN: 1563525275

Home on the Range: Cast Iron Recipes for Success: Bryn Parry, Emma Parry, Hardcover, 2002 ISBN: 1904057098

Kitchen Antiques 1790-1940, Kathyrn McNerney, Collector Books, 1991, 2000 PG, PB-222 Pgs., Virtually every type of item pictured & priced, 8x11 ISBN: 0891454470

Lodge Presents Chef John Flose's Cast Iron Cooking, by John Flose. 1999. Lodge Manfacturing Company. Paperback. 103 pages. ISBN: 0962515256

Lovin' Dutch Ovens, by Joan S. Larsen. 1991. LFS Publications. Hardback, notebook. 241 pages. ISBN: 1880415038

Northwest Dutch Oven Society (Seminar Edition). Paper. 41 pages.

Old-Fashioned Dutch Oven Cookbook, by Don Holm. 1996. Caxton Printers, Ltd. Paperback. 131 pages, ISBN: 0870041339

Roughing It Easy, by Dian Thomas. 1975. Warner Books. Paperback. 246 pages. ISBN: 096212575X

The Spicy Camp Cookbook, by M. Timothy O'Keefe. 1997. Menasha Ridge Press. Paperback. 135 pages. ISBN: 089732188X

The Cast Iron Skillet Cookbook : Recipes for the Best Pan in Your Kitchen by Sharon Kramis, Julie Kramis Hearne, Sasquatch Books; 09 November, 2004,ISBN: 1570614253

The Laird's Kitchen: Three Hundred Years of Food in Scotland , National Library of Scotland, Olive M. Geddes, 120 pages, 1994, Publisher: The Stationery Office Books, ISBN: 0114952302

The Outdoor Dutch Oven Cookbook, by Sheila Mills, McGraw-Hill , 1997, Softcover,170 pages, ISBN 0070430233

Trivets, The A-Z Guide to Collecting, Collector Books, 2004-05 Values, Margaret Lynn Rosack, PB-176 Pgs., 450+ Trivets, Descriptions, All types are shown. ISBN: 1574323997

Spirit of The West: Cooking from Ranch House and Range, by Beverly Cox and Martin Jacobs. 1996. Artisan. Hardback. 224 pages. ISBN: 1885183216

A Texas Treasury of Dutch Oven Cooking, Towns, Trails & Special Times: The Marlboro Country Cookbook, No author identified. No copyright date. No publisher identified. Hardback. 163 pages.

World Championship Dutch Oven Cookbook, by Kohler and Michaud. 1989. Paperback. 88 pages. ISBN: 0962391808
Old English Household Life, by Gertrude Jekyll, Hardcover: 222 pages
Publisher: HarperCollins Distribution Services; Revised edition edition (September 1975)ISBN-10: 0713429836, ISBN-13: 978-0713429831