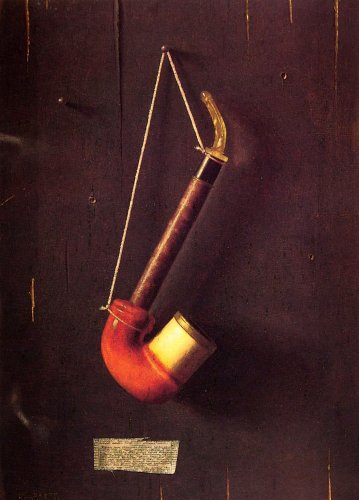 Meerschaum Pipes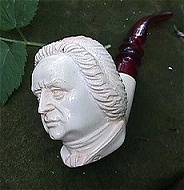 My grandest pipe was given to me by my younger Brother, Mark Maxwell.
J. S. Bach and I make beautiful music together and he smokes as smooth as silk! CAO Meerschaum issued pipes of the "Great Composers". There were 50 of each composer carved by Ismet Bekler. I think this is one of them. This pipe was given to me in the early eighties, Correct me if I'm wrong about the maker, please?!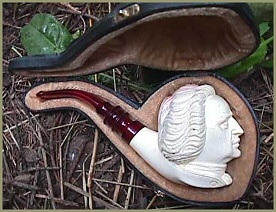 Edifying Thoughts of a Pipe Smoker
Whene'er I take my pipe and stuff it
And smoke to pass the time away
My thoughts, as I sit there and puff it,
Dwell on a picture sad and grey:
It teaches me that very like
Am I myself unto my pipe.
Like me this pipe, so fragrant burning,
Is made of naught but earthen clay;
To earth I too shall be returning,
And cannot halt my slow decay.
My well used pipe, now cracked and broken,
Of mortal life is but a token.
No stain, the pipe's hue yet doth darken;
It remains white. Thus do I know
That when to death's call I must harken
My body, too, all pale will grow.
To black beneath the sod 'twill turn,
Likewise the pipe, if oft it burn.
Or when the pipe is fairly glowing,
Behold then instantaneously,
The smoke off into thin air going,
'Til naught but ash is left to see.
Man's fame likewise away will burn
And unto dust his body turn.
How oft it happens when one's smoking,
The tamper's missing from it's shelf,
And one goes with one's finger poking
Into the bowl and burns oneself.
If in the pipe such pain doth dwell
How hot must be the pains of Hell!
Thus o'er my pipe in contemplation
Of such things - I can constantly
Indulge in fruitful meditation,
And so, puffing contentedly,
On land, at sea, at home, abroad,
I smoke my pipe and worship God.
Johann Sebastian Bach - 1725 (1685-1750)


Meerschaum (hydrated magnesium silicate), a mineral found in small shallow deposits mainly around the city of Eskesehir in central Turkey, is prized for its plasticity which allows it to be carved into many decorative and figural shapes. It has been used since the 17th century and, with clay pipes, represented the most common medium for pipes before the introduction of briar as the material of choice in the 19th century. The word "meerschaum" means "sea foam" in German, alluding to its natural white color. However, meerschaum is a very porous mineral that absorbs elements of the tobacco during the smoking process, and gradually changes color to a golden brown. Old, well-smoked meerschaum pipes are prized for their distinctive coloring.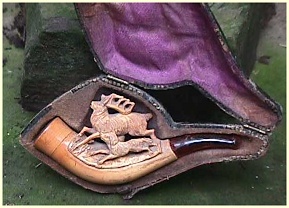 This little (cheroot) cigar holder shows heavy wear and the classic old meerschaum coloring.
Amber bit with bone screw. Lovely hunt scene with red deer and dog.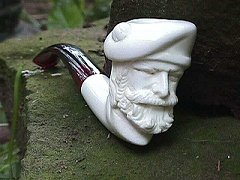 Charlie Paykoc is a meerschaum importer that has a reputation for a good all around
selection and quality. This is one of his figural pipes.
My braw Scotsman pipe is a pipe I bought new which is quite unusual for me.
Most of my pipes are antiques or estate pipes. The subject is so perfect and he is a very nice medium size. The bowl fits nicely in your hand and you can walk around with this one in your teeth it is so light. I look forward to seeing a little color in those cheeks when he is smoked a few more times. Scottie is pictured here as a virgin before I had my way with him! This pipe is labeled Paykoc Meerschaum, purchased from AAA Merschaum. Made in Turkey of course!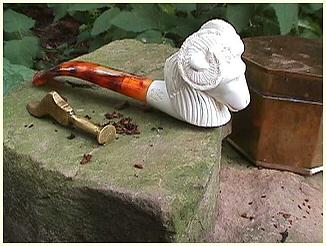 Nice little ram pipe by I K Meerschaum, I had to have this one since our business is The Rams Horn! Purchased new from Pipeshop.com This is another smaller Meeschaum perfect for a lady.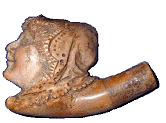 Early Meerschaum, probably French.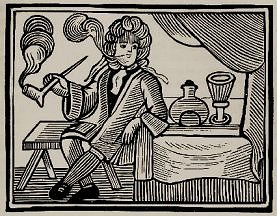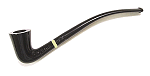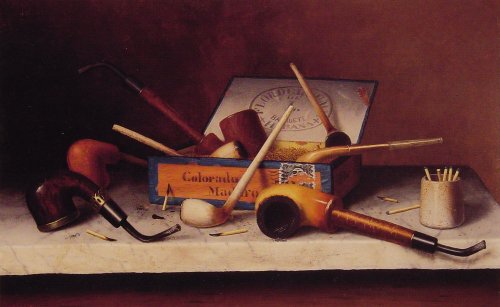 INVOCATION TO TOBACCO
Weed of the strange flower, weed of the earth,
Killer of dullness, parent of mirth,
Come in the sad hour, come in the gay,
Appear in the night, or in the day,
Still thou art welcome as June's blooming rose,
Joy of the palate, delight of the nose!
Weed of the green field, weed of the wild,
Fostered in freedom, America's child,
Come in Virginia, come in Havana;
Friend of the universe, sweeter than manna,
Still thou art welcome, rich, fragrant, and ripe,
Pride of the tube-case, delight of the pipe!
-Henry James Mellen


copyright 2002 , Jim & Beth Boyle, All Rights Reserved

No part of this website may be used for any purpose ( including using images )

without written consent from The Rams Horn