Tobacco Jars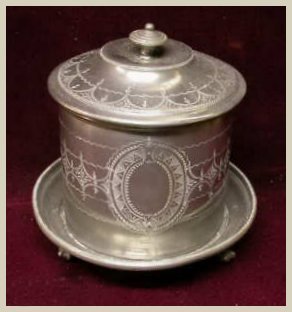 Since Tobacco first gripped the imagination of American colonists and it's popularity spread like wild fire through most of Europe, containers to hold the precious herb were being made by artisans. Often the first jars resembled apothecary jars because tobacco was dispensed like a medicinal compound and was of the highest value. Many early tobacco containers also resembled the fancy boxes and jars used to store tea. Ornate jars for home use have been made since the 1700's. Usually these were not only a container for pipe tobacco but a humidors as well. Although tin, pewter, and some other materials were used for tobacco jars, the greatest variety were made in pottery and porcelain. Delft, majolica, bisque, and porcelain became common. Most of them had appropriate decorations. Some were shaped in the form of an animal or of an Indian or a white man smoking, and appropriately colored. On others, only the covers or knobs had shapes linked to smoking. Latter tobacco jars became very ornate and imaginative, especially as tobacco containers entered the Victorian period. Today some people mistakenly think tobacco jars are cookie jars and some folks even call them powder jars. Figural tobacco jars were first created in large numbers around the middle of the 19th century to store the ever increasing supply of tobacco. These jars when they are shaped like people or animals are then considered 'figural'. These jars were most often fashioned in the shape of the head of a person or animal. Many times they were modeled as full figures representing historic people, or people dressed in their everyday costumes. Many tobacco jars were created with animals assuming human roles and dressed in human clothing. There was no limit to what the artists designed to capture the imagination of the smoking public.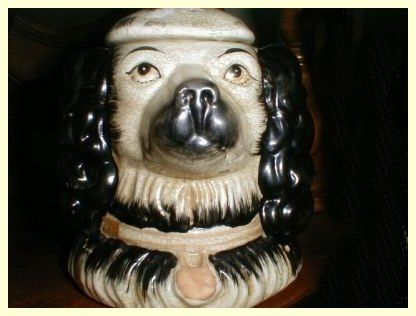 This jar is a reproduction all though well done
Still the bulk of tobacco jars were primarily ceramic made in terra-cotta or majolica or sometimes in porcelain or bisque. There were some made of bronze or lead. Some were carved or turned out of wood and are known as treen. Most fancy tobacco jars were produced around the end of the 19th Century and the beginning of the 20th. New types of containers and changing habits curtailed the demand for them by the 1930s. 1950s and 60s. Jars can even be well made and worth hunting down but these are a far cry from the handcrafted pieces made earlier. Victorian ceramic figural jars were not hand made or thrown on a wheel. The clay slip was poured in molds, and then fired in a kiln. They were then hand decorated. Some were just (cold) painted while others were then refired with fired-on glazed detailing that is more durable. Today most classic tobacco jars are highly collectible. They can be found in prices ranging from a few dollars for the beginning collector up to a few thousand for the advanced. There are enough still around for beginners to assemble a lovely collection of jars. eBay is a wonderful place to look for Tobacco jars, however some are even being reproduced in China so beware as you collect and do your research well. I highly recommend the book Figural Humidors-Mostly Victorian by Joseph Horowitz.


Odd Epigrams for Tobacco Jars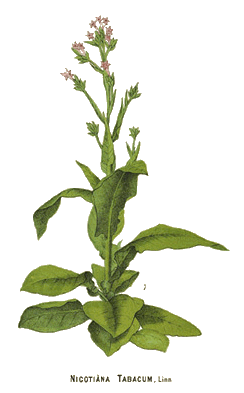 I am, and am not,

A family jar.

Fill the bowl, you jolly soul,

And burn all sorrow to a coal.

A weed you call me, but you'll own

No rose was e'er more fully blown.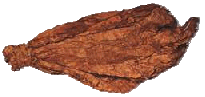 Behold! This vessel hath a moral got:

Tobacco smokers all must go to pot.

Your pipe's your friend!

A greater friend am I;

For in itself that friend will lack

What I supply.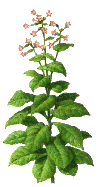 "Man's life is but a vapour!"

Believe me or not –– I most truly contain

A soother of woe and an easer of pain!

Great Jove Pandora's box with jars did fill ––

This jar alone has power those jars to still.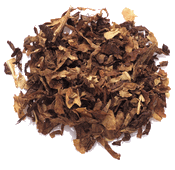 A jar, behold me! taste my store,

Take all you want, but take no more.

I'm "Solitaire," and Social's pal,

I'm Baccyful, not Bacchinal;

I'm Friendship's bond, I'm Freedom's type,

I'm Welcome's emblem –– take a pipe!

Still, should you choose my worth evoke,

You'll own my faults all end in smoke.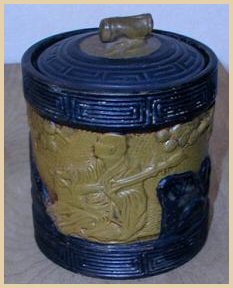 Although no artist, I can draw

My pipe to ease my care;

No architect, yet oft I build

Grand "castles in the air;"

No author, yet I can compose

My nerves, if aught should mar

My happiness, by virtue of

The plant within this jar.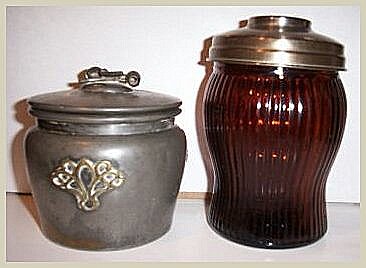 There are jars of jelly, jars of jam,

Jars of potted beef and ham;

But welcome most to me by far

Is my dear old tobacco jar.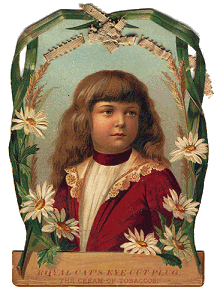 There are pipes producing sounds divine,

Pipes containing luscious wine;

But when I consolation need,

I take the pipe that burns the weed.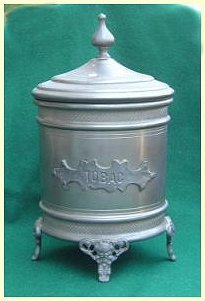 All ye who fell oppress'd amidst the strife,

The ceaseless wear and strain of busy life;

All ye whose spirits sink beneath the weight

Of dire misfortune, or of advers fate,

Search well within the jar, and you will find

The certain solace for a troubled mind.

Use with discretion what is offer'd there,

Inhale its fragrance, and forget its care.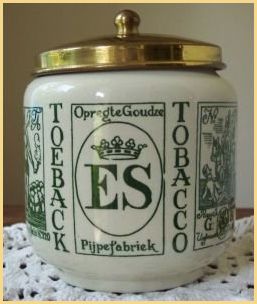 Tobacco Good Within I Have Though It's Not Good For Every Knave My Friends Only I Supply - Let Begging Fellows Go And Buy -- John Winflow 1747.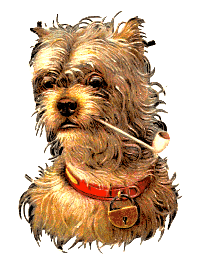 1705 Chanticleer Dr.

Cherry Hill, NJ 08003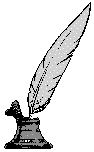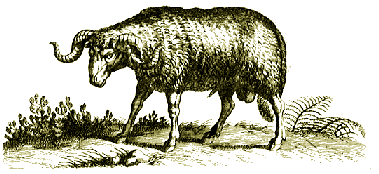 copyright 2002 , Jim & Beth Boyle, All Rights Reserved

No part of this website may be used for any purpose ( including using images )

without written consent from The Rams Horn