Bawdy Pipe Tampers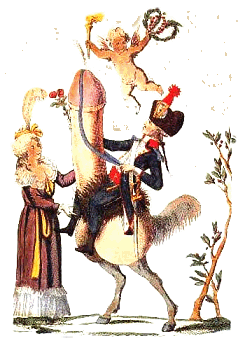 Reproductions of Erotic Art

Ride a cock-horse to Banbury Cross,
To see a fine lady upon a white horse;
With rings on her fingers and bells on her toes
She shall have music wherever she goes.



Bawdy Pipe Tampers

In the 17th century an ingenious smoker came up with the pipe tamper, or stopper, as it's known in England, a tool for pressing down lit tobacco in the pipe's bowl. Made from every manner of material--from ivory and brass to animal teeth and mother-of-pearl--tampers come in a wonderful variety of motifs, including a women's leg, kissing lovers, adam & Eve and, yes, a man's penis. For novices, tampers are an easy way to get started in tobacciana. Our Pipe tampers are cast in leadfree Pewter but the molds are made from antique tampers in our private collection. This page is of our bawdy tampers.



The Rams Horn

James Edward Boyle & Beth Maxwell Boyle
3680 Panama-Stedman Road
Mayville, NY 14757

"In the tobacco-stopper alone was anything like taste or fancy displayed. This was the only article on which the English smoker prided himself. It was made of various materials - wood, bone, ivory, mother-of-pearl, brass, and silver; and the forms which it assured were exceedingly diversified."

-Joseph Fume, 1839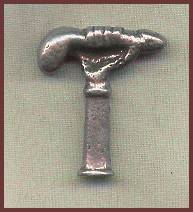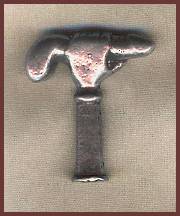 Reproduction Pipe Tamper, Colonial Phallus in Hand

T-7P

Oh so very naughty and so very fun, a reproduction of a 18th Century tamp from England. This is excellent for both antique clay pipe bowls and modern briar pipe bowls! This phallic tamper is 1 and 1/2 inches tall. It has a nice heft in the hand and reminds us of a clock key the way it was designed. Such a randy craftsman conceived of this novelty so many years ago! Good base size for most clays and briars.

NOW IN STOCK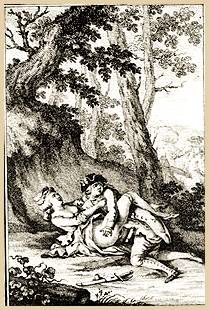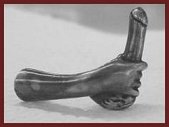 Reproduction Pipe Tamper, Phallus in Hand II

T-8P

Oh so very naughty, this one will bring squeals if you use it in front of friends. It is a reproduction of a Early 19th Century tamp. This is sure to add a little zest to any smoke. WOW! Good base size for most pipes.

NOW IN STOCK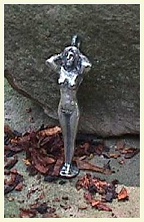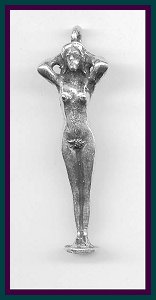 I just love this artistic nude pipe tamper. She has a strong Art Nouveau feel and the original was no doubt sculpted in the19th Century. We reproduced her from an antique and she stands about two and 1/4 inches tall. You tamp with the little platform she stands on. This little nude figure actually would make a lovely pendant if you are so inclined. You pipe smokers all need one of these little gals to brighten your day. She is highly polished and looks very much like sterling but was cast in lead- free jewelers pewter like many antique tampers were. She has a loop at the top to hang her. You can suspend her from your watch chain or from your humidor. We think this is a wonderful little addition to our pewter line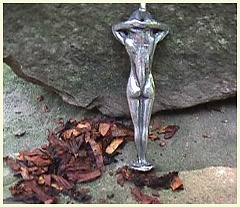 Nude Lady Pipe Tamper
T-4P
Handcast in lead-free pewter in a mold made from an original here in our studio. She has a loop from the top to go on your watch chain as a fob or hang from your humidor.
NOW IN STOCK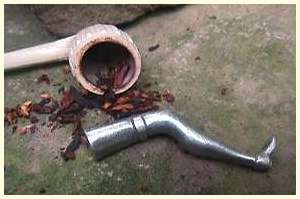 18th Century Style, Gal Leg Pipe Tamper
T-2P
This is a whimsical little pipe tamper that we reproduced from a vintage tamper we bought in England. It is such a historical and humorous shape. This slightly naughty theme can be found in everything from pistol grips to horse bits. This particular "Gal Leg" design is 18th Century and that makes this tamp perfect for reenacters and collectors of historical memorabilia. We think this Bawdy tamper is also very practical for the modern pipe smoker. We use these ourselves and be assured these are cast in food safe, metal of the highest grade. Each little pipe tamp is fully three dimensional from the stocking to the sole of the shoe. This pipe tamp stands 2 5/8" from the bottom of the heal to the top of the thigh. Good base size for most pipes.
NOW IN STOCK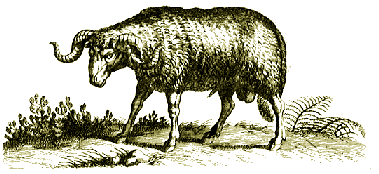 More Pipe Tamper Styles Coming Soon!
Wholesale Orders Welcome

$14.00 each + $4.95 shipping
Pay by PayPal to
corgijim@windstream.net
These also can be ordered right from the main jewelry store
which has a shopping cart feature:
or send check or money order
made out to James E. Boyle:
c/o
The Rams Horn
3680 Panama-Stedman Road
Mayville, NY 14757 USA
716-789-5804
Please send $5.00 for shipping outside the USA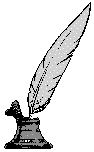 copyright 2002 , Jim & Beth Boyle, All Rights Reserved

No part of this website may be used for any purpose ( including using images )

without written consent from The Rams Horn