Baloo Lammy

17th Century Scottish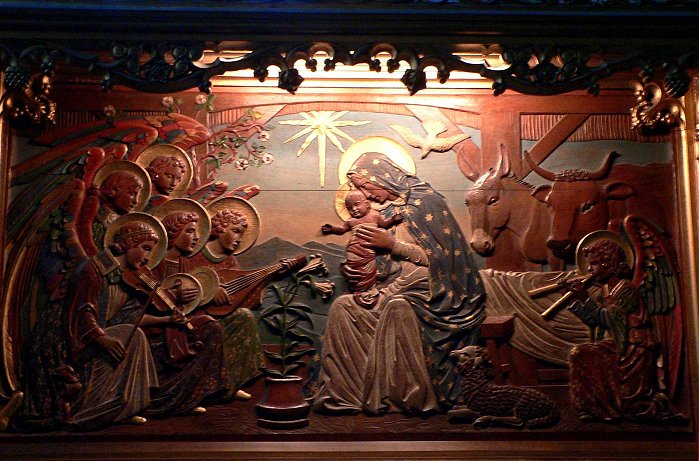 Saint Giles Cathedral, Edinburgh, Scotland

THIS DAY TO YOU IS BORN A CHILD
OF MARY MEEK, THE VIRGIN MILD
THAT BLESSED BAIRN, MOST LOVING AND KIND
SHALL NOW REJOICE, BOTH HEART AND MIND
BALOO LOO LAMMY
MY SOUL AND LIFE, STAND UP AND SEE
WHO LIES IN A CRIB BUILT OF A TREE
WHAT BAIRN IS THAT, SO GOOD AND FAIR
'TIS DEAREST JESUS, GOD'S SON AND HEIR
BALOO LOO LAMMY
O MY DEAR HEART, YOUNG JESUS SWEET,
PREPARE THY CRADLE WITHIN MY SPIRIT
AND I SHALL ROCK THEE WITHIN MY HEART
AND NE'ER MORE FROM THEE SHALL I DEPART
BALOO LOO LAMMY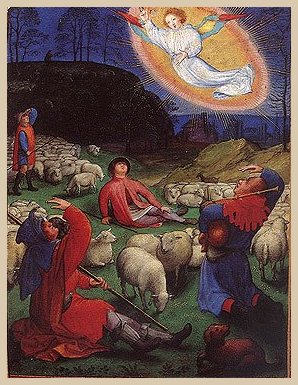 Version 2
This day to you is born a child
of Mary meek, the Virgin mild.
That blessed bairn, so loving and kind
shall now rejoice both heart and mind.
Baloo Lammy.
A star appeared this blessed morn,
and unto us a child is born.
To heaven He'll lead us from near and far,
So follow, follow that wondrous star.
Baloo Lammy.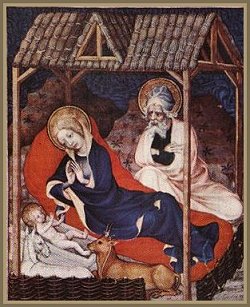 Collected in the Shetland Islands
*Bairn is Scots for Child
bairn "child". This is one of the most obviously Scandinavian words in Scots,
with a cognate - barn - used in practically all Nordic languages.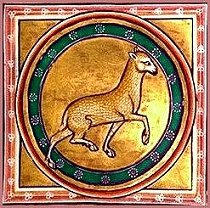 Baloo, Lammy is a Scottish Carol from the 17th century. This song came from a performance of the Nashville Early Music Ensemble at the Christ Church Cathedral in downtown Nashville, TN on Tuesday, November 25, 2008. A musical setting can be found in Roy Ringwald's Book Of American Carols (2004), who gives attribution for the first verse to John Wedderburn, 1567. He states that the author of verses 2 and 3 is unknown. The full original title was "An Sang of the birth of Christ," from James, John and Robert Wedderburn's Ane Compendium Buik of Godly and Spirituall Sangis (1567)
It was said to have been transcribed by Dante Gabriel Rossetti in the 1850s. The manuscript in the Fitzwilliam Museum.
The Fitzwilliam Museum gives the following:
1. Out of heaven I come to tell
The best news that ere befell;
To ye such tidings true I bring,
And of them I will say and sing.
2. This day to you is born a child
Of Mary Virgin, meek and mild;
That blessèd child, gracious and kind,
Shall you rejoice both heart and mind.
3. Ye shall him find sans mark or ring,
Full simple in a cribb lying;
So lieth he who us hath wrought
And all the world made out of nought.
4. O God, that made all creature,—
How art thou become so poor,
On the hay and the straw to lie
Among the asses, oxen, and kye.
5. Were the world ten times as wide,
Clad over with gold and stones of pride,
Unworthy still it were of thee—
Under thy feet a stool to be.
6. The silk and sandell, thee to ease,
Are hay and simple swathing-claes,
Wherein thou gloriest, greatest King,
As thou in Heaven satt'st in thy ring.
7. O my dear Heart, young Jesus sweet,
Prepare thy cradle in my spirit,
And I shall rock thee in my heart
And never more from thee depart.
8. But I shall praise thee evermore
With sweet songs unto thy gloire;
The knees of my heart I shall bow,
And sing that right Balulalow.
9. Glory be to God eternally,
Who gave his only son for me!
The angels are gladdened when they hear
The gracious gift of this new Year.
From Alfred Moffat's Fifty Traditional Scottish Nursery Rhymes (1933),
where it is called Now balaloo, lammy
(NON CHRISTMAS VERSION OF LULLABY)
BALALOO, LAMMY
Now balaloo, lammy, now baloo, my dear,
Now balaloo, lammy, ain mammie is here.
What ails my wee bairnie? What ails it this night?
What ails my wee lammy? Is bairnie no right?
Now balaloo, lammy, now baloo, my dear,
Does wee lammy ken that its daddie's no here?
Ye're rockin' fu' sweetly on mammie's warm knee,
But daddie's a-rockin' upon the saut sea.

Recorded by:
Bittersweet and Briars
Waggett Declan
David Huntsinger
Robert De Cornier
Eileen Mager
Scarlet Rivera
Celtic Bagpipes
Bonny Rideout
*Jeannie Fitchen -vocals
Ethan James
Caroline Peyton
Maggie Sansone
Al Petteway
Eric Rigler