Blessing of the Cattle

THE PROTECTION OF THE CATTLE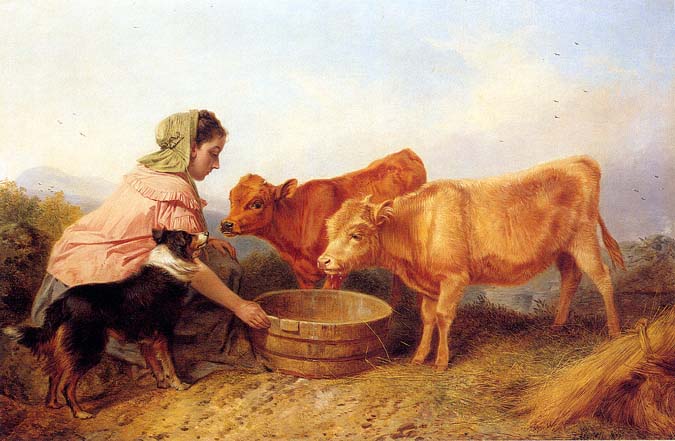 Pastures smooth, long, and spreading,

Grassy meads aneath your feet,

The friendship of God the Son to bring you home

To the field of the fountains,

Field of the fountains.

Closed be every pit to you,

Smoothed be every knoll to you,

Cosy every exposure to you,

Beside the cold mountains,

Beside the cold mountains.

The care of Peter and of Paul,

The care of James and of John,

The care of Bride fair and of Mary Virgin,

To meet you and to tend you,

Oh! the care of all the band

To protect you and to strengthen you.

COMRAIG NAM BA



Blaragan reidh, fada, farsuinn,

Faileagan feile fo 'r casan,

Cairdeas Mhic De dh' ar toir dhachaidh

Gu faiche nam fuaran,

Faiche nam fuaran.

Gum bu duinte duibh gach slochd,

Gum bu sumhail duibh gach cnoc,

Gum bu clumhaidh duibh gach nochd,

Am fochar nam fuar-bheann,

Fochar nam fuar-bheann.

Comraig Pheadail agus Phoil,

Comraig Sheumais agus Eoin,

Comraig Bhride mhin's Mhuir Oigh,

Dh' ar comhlach 's dh' ar cuallach,

O! comraig gach aon dh' an chomhl

Dh' ar comhnadh 's dh' ar cuanadh.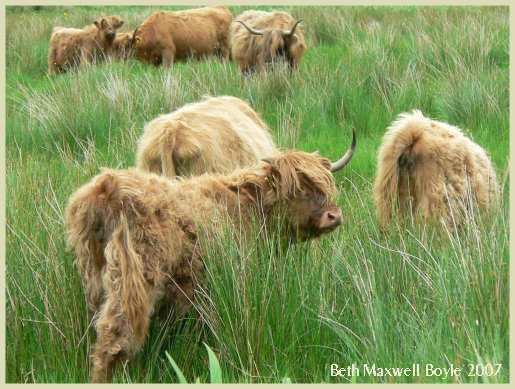 Collected in the Highlands of Scotland and
Translated by Alexander Carmichael from the Gaelic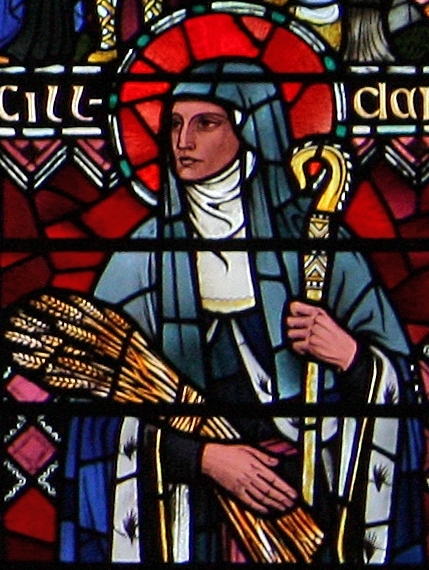 Saint Brigid of Kildare

Saint Brigid of Kildare or Brigid of Ireland (Brigit, Bridget, Bridgit,or Bríd) (Irish: Naomh Bríd) (c. 451Ė525) is one of Ireland's patron saints along with Saints Patrick and Columba. Her feast day is February 1, or Candlemas, the traditional first day of spring in Ireland.

Ni bu Sanct Brigid suanach

Ni bu huarach im sheirc Dé,

Sech ni chiuir ni cossena

Ind nóeb dibad bethath che.

Saint Brigid was not given to sleep,

Nor was she intermittent about God's love of her;

Not merely that she did not buy, she did not seek for

The wealth of this world below, the holy one.


Celebrating Saint Brigidís Day was often focussed not only on the saint herself but also on cattle and dairy of which Brigid is the patron saint. Here is a list of traditional things to do on of before February 1st, Saint Brigidís Day.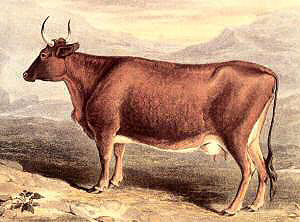 Saint Brigidís Cross

These crosses are traditionally made from rushes, but today many materials (and sometimes even different regional designs) are used. Any material used for making the cross should ideally be blessed. You may note that the design of the Saint Brigidís Cross is straddling the pagan and Christian world Ė while it is a cross, it also is similar in design to a fylfot or swastika. The finished cross is hung on the inside of a thatched roof above the front door. In a pinch the inside of your front door will do. Saint Brigidís Crosses are left in their place for the year and renewed on the following Saint Brigidís Day.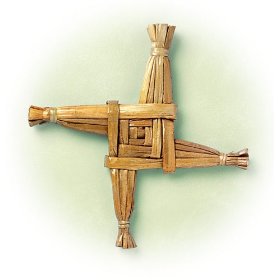 Saint Brigidís Cross

Believers in Ireland said Saint Brigid was known to travel the countryside, blessing households as she went accompanied by a white cow with red ears. Placing bread and fresh butter on the outside windowsill, together with corn for the cow was once a tradition in Ireland. A piece of white cloth or a white silk ribbon was hung on the outside of the front door for the Saint to bless by many households. One was also advised to make fresh butter for Saint Brigidís Day. It is important to remember that Saint Brigidís Day was also a day for those who have to give food to those who havenĎt. In many regions a special oat bread was baked for Saint Brigidís Day - Saint Brigidís Bread. Ideally this should be blessed by a priest and then shared.

Traditionally, farm animals would be especially well taken care of on Saint Brigidís Day.

BRIDE THE AID-WOMAN

There came to me assistance

Mary fair and Bride;

As Anna bore Mary,

As Mary bore Christ,

As Eile bore John the Baptist

Without flaw in him,

Aid thou me in mine unbearing,

Aid me, O Bride!

As Christ was conceived of Mary

Full perfect on every hand,

Assist thou me, foster-mother,

The conception to bring from the bone;

And as thou didst aid the Virgin of joy,

Without gold, without corn, without kine,

Aid thou me, great is my sickness,

Aid me, O Bride!

BRIDE BAN-CHOBHAIR

Thainig thugam cobhair

Moire gheal is Bride;

Mar a rug Anna Moire,

Mar a rug Moire Criosda,

Mar a rug Eile Eoin Baistidh

Gun mhar-bhith dha dhi,

Cuidich thusa mise 'm asaid,

Cuidich mi a Bhride!

Mar a gheineadh Criosd am Moire

Comhliont air gach laimh,

Cobhair thusa mise, mhoime,

An gein a thoir bho 'n chnaimh;

'S mar a chomhn thu Oigh an t-solais,

Gun or, gun odh, gun ni,

Comhn orm-sa, 's mor m' othrais,

Comhn orm a Bhride!

We hope you enjoyed this and go to the site whereyou can sample many of these ancient prayers and incantations. Very special thanks to A' Chiste Ghaidhlig for this material.



Peace and Joy to you and yours- Beth Maxwell Boyle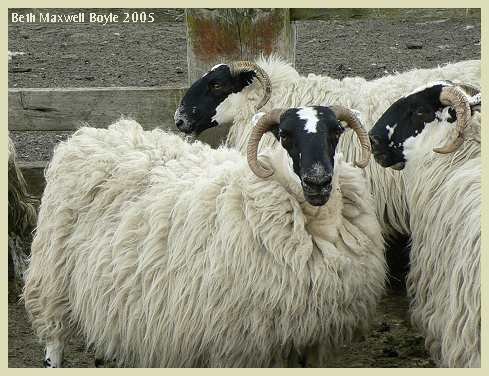 'Feuch air fear coimhead Israil

Cadal chan aom no suain.'

(The Shepherd that keeps Israel

He slumbers not nor sleeps.)